Recall - Le Toy Van Petilou LEPL089 Sensory Shapes
Date Posted:30 June 2022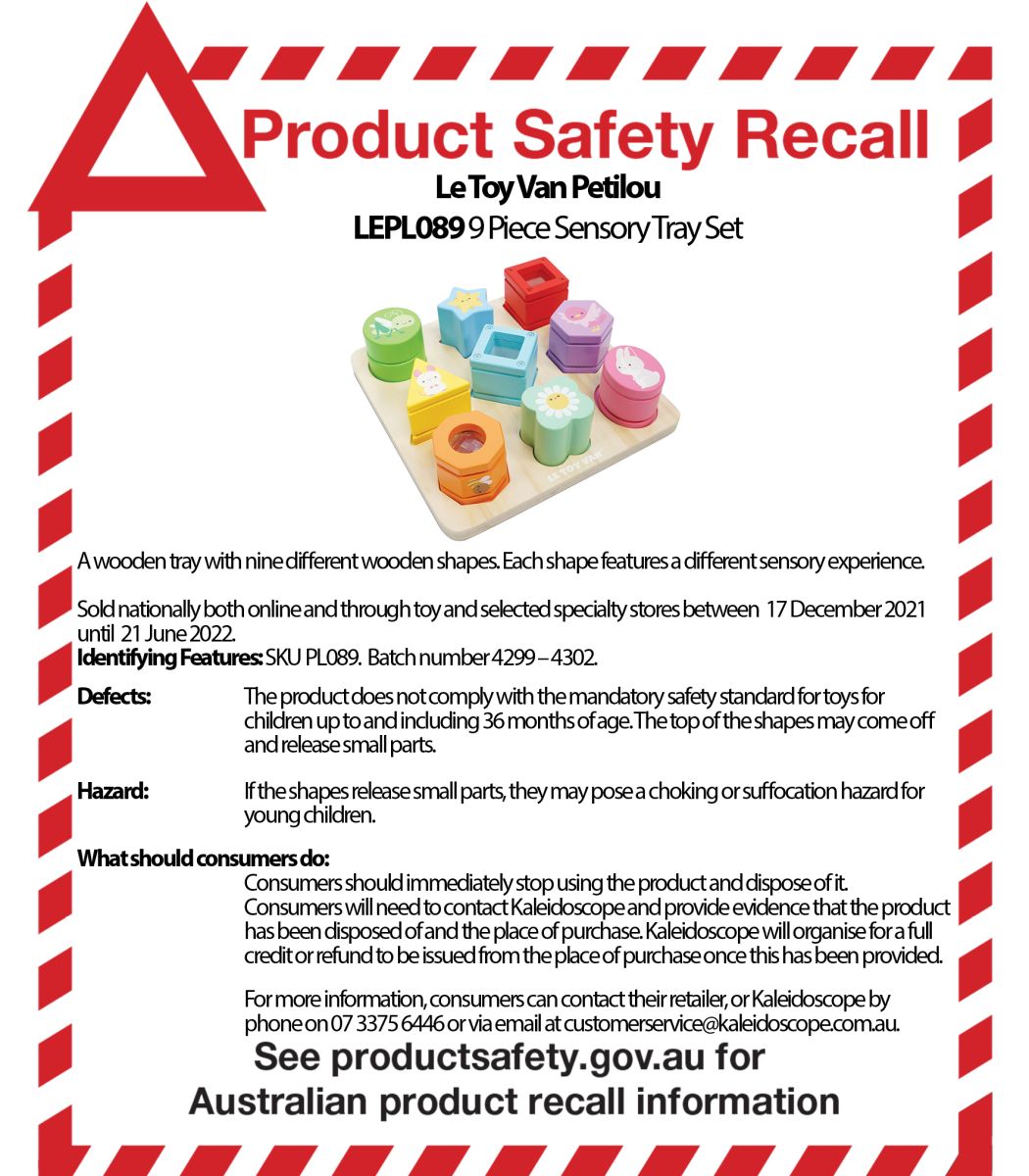 Product description
Le Toy Van Petilou Sensory Shapes: LEPL089 A wooden tray with nine different wooden shapes. Each shape features a different sensory experience.
What are the defects?
The product does not comply with the mandatory safety standard for toys for children up to and including 36 months of age.
The top of the shapes may come off and release small parts.
What are the hazards?
If the shapes release small parts, they may pose a choking or suffocation hazard for young children.
What should consumers do?
Consumers should immediately stop using the toy, dispose of the product and contact Kaleidoscope Australasia Pty Ltd. A full refund will be issued from the place of purchase.
Consumers will be asked to provide a photograph or other evidence to demonstrate the toy has been disposed of or destroyed. Consumers are also asked to notify Kaleidoscope if the product has already been disposed of, so that safe disposal of affected toys can be monitored.
For more information, consumers can contact Kaleidoscope by phone on 07 3375 6446 or via email at customerservice@kaleidoscope.com.au
Supplier
Kaleidoscope Australasia Pty Ltd
Traders who sold this product
Sold nationally via toy and gift stores, educational suppliers, pharmacies and health providers.
Where the product was sold
Nationally
Online
New South Wales
Queensland
South Australia
Tasmania
Victoria
Western Australia
Australian Capital Territory
Northern Territory
Dates available for sale
-