FM3051 - Winged Dragon Hand Puppet
Fantasy play just got more entertaining with the Folkmanis Winged Dragon puppet. Fierce and bold, this green flying reptile is a handful of fun. Create your own fairytale animating the mouth and wings of this magical beast.
Award Winner: ASTRA 2015 Best Toys for Kids award for the Pretend-Fantasy Play category. 2015 CREATIVE CHILD AWARDS Creative Play of the Year Award, 2015 CREATIVE CHILD AWARDS Preferred Choice, 2015 NAPPA Bronze Award, 2015 PAL Award.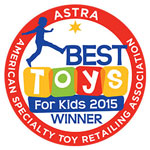 Suitable for ages: 3+ years
Package Dimensions
39cm L23cm H100g
Product Dimensions
38cm L23cm H30cm wingspan
---
Frequently bought together